Sinclair's Reeves Honored with Lifetime Achievement Award
A Lifetime of Achievement Rewarded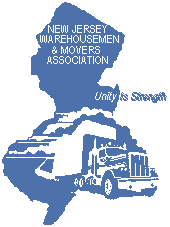 Bob Reeves, owner of Sinclair Moving was recently honored by the New Jersey Warehouseman's and Movers Association (NJWMA) with the organization's Lifetime Achievement Award. Mr. Reeves has served on the Association's board of directors for over 20 years in various roles including that of board member, President and Chairman.
I am very humbled and honored to receive this prestigious award. The NJWMA provides valuable assistance and has been a wealth of knowledge for me and Sinclair Moving. I should be awarding the association for all they have done over the years. – Bob Reeves, owner, Sinclair Moving
This is not Reeves' first award from the NJWMA. In 2001 he was named Board Member of the Year and in 2007 he was honored with the Bill Moynihan Special Service Award.
Mr. Reeves was presented with the award at the NJWMA's 2016 convention held in Atlantic City.
The NJWMA represents over 250 movers in New Jersey and works with state, local and federal officials to provide a better environment for movers and their customers.