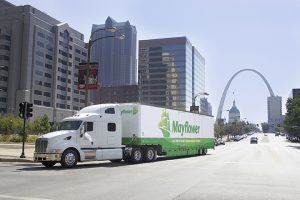 National | Long-Distance | Interstate Moving Services To & From The Philadelphia and South Jersey Area
National / Long-distance moves require precise coordination of many different activities so your possessions arrive at your new home safe and on time.
Similar to our local moving services, our national / long distance / interstate moving services can include:
Packing and crating
Loading and unloading
Storage in clean, inspected, approved facilities
Third party appliance service (for de-installation and installation of hot tubs, trampolines, and other large appliances)
Sinclair's Plan for Loading Your Household Goods
On moving day, your driver will prepare all of your items for shipment. A detailed inventory which includes the condition of each item will be completed for your approval (and your protection). Each item and carton will be numbered so that nothing can be misplaced throughout your move.
Once the inventory is complete, the driver and crew will begin to carefully load the van. With the eye of a craftsman, your driver will skillfully load the van to prevent any shifting of your possessions while in transit. With professional care, your furniture will be wrapped in moving blankets and secured with restraints to complete your National / Long distance / Interstate move.
Load Last
Be certain to mark any items that you want to be loaded into the van last. A vacuum cleaner is usually need to clean up the empty house upon departure as well as using a broom to sweep out your new home on arrival. You may also want to plan a box of items that you will need immediately upon arrival. Essentials including soap, paper towels, toilet tissue, plastic glasses and a can opener probably should be included. Your Sinclair driver will make sure that this box is unloaded first for your convenience.
Plants & Pets
Plan for your plants. Transporting plants in the moving van is simply not recommended. You may want to move them in your car, or give them to your friends as a reminder of you. Also plan for your pets. Your Sinclair Agent can advise you regarding transportation options for your pets. Moving can be a confusing and stressful time for them too. Your best bet is to have your neighbor or veterinarian watch your pet during packing and as the van is being loaded.
Check Out Our Recent Moving Project Gallery





Why choose Sinclair Moving & Storage for National | Long-distance | Interstate
Proven track record – reliable moving services in New Jersey since 1923.
Agent of Mayflower Transit – which has been moving families since 1927.
Guaranteed pricing – if the scope of your move remains the same, our price won't change from our original estimate.
Personal move coordinator – to answer your questions, coordinate all details and assure a smooth move, we assign a personal move coordinator to your move.
Strict employee qualification standards – including drug screening, background check, physical examination, and road testing.
Proven process – our unique move process assures key milestones in your move happen like clockwork.
Free Job Estimate Form
For Fastest Results, Call: 800-282-7242 Or Use Our Contact Form Below